In Memory
Charles E. Bose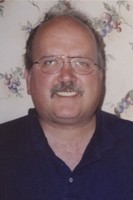 SIOUX CITY -- Charles Edward Bose, 50, of Sioux City died Wednesday, July 27, 2011 at his residence.
Services will be 10 a.m. Monday at Concordia Lutheran Church, with the Rev. Kevin Vogts officiating. Burial will be in Memorial Park Cemetery. Visitation will be 4 to 8 p.m. today, with the family present 6 to 8 p.m., at Meyer Brothers Colonial Chapel. Condolences may be sent online to www.meyerbroschapels.com.
Charles was born Nov. 11, 1961 in Sioux City, to Harold and Beverly (Carbaugh) Bose. He graduated from Sioux City East High in 1979. He was a lifelong resident of Sioux City. He worked for Food4Less, St. Luke's Hospital and was currently employed by the Sioux City Tyson Event Center.
He was an active member of Concordia Lutheran Church, where he served as an usher.
Charles was hardworking, reliable, always willing to lend a hand. He will always be remembered as a tender-hearted, caring and kind man. Charles loved peace and quiet, enjoyed working outside his yard and had a love for a good movie. He enjoyed his job, his coworkers and friends. Charles was also an avid Musketeers and Bandits fan.
Survivors include his parents, Harold and Virginia Bose of Sioux City; brothers, James Bose and special friend, Kathy, of Lancaster, Calif., Doug Bose of Sioux City, and Dough Cannon and his wife Linda of O'Fallon, Mo.; sisters, Marie Kooistra and her husband Mike of Le Mars, Iowa, Karen Sosa and her husband David of Parker, Colo., and Marcia Zentmire and her husband Mark of Yankton, S.D.; as well as several nieces and nephews, aunts and uncles and cousins.
He was preceded in death by his mother, Beverly Bose; his grandparents; several uncles, Bill Boucher, Jim Nelson, Myron Bose and Harold Stolle; and one aunt, Vi Stolle.
In lieu of flowers, memorials may be given to Concordia Lutheran Church.