In Memory
S. Dawn Erickson (Warner)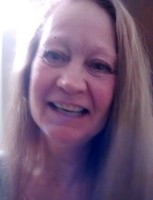 Starlett Dawn Warner (1961-2017)
Jan 5, 2017
TRAER, IA — Starlett Dawn Warner, 55, of Traer, died at home Monday, Jan. 2.
She was born Jan. 16, 1961, in Omaha, Neb., daughter of Ken and Elaine Elvik Erickson. On May 26, 2001, she married Dave Warner.
Dawn graduated from Sioux City East High School in 1979. She previously worked at Dain Bosworth Investments and recently was working as a dietary aide at Sunrise Hill Care Center in Traer.
Survived by: her husband; her parents; two sons, Daniel and Darrick Bern; a sister, Victoria Pitzele; two brothers, Kelley and Blaine Erickson; and three grandchildren.
Preceded in death by: a brother, Mark Erickson; her maternal grandparents; and her paternal grandparents.
Services: 10:30 a.m. Monday, Jan. 9, at Overton Funeral Home in Traer, with visitation for an hour before services.
Bottom of Form
Memorials: may be directed to the family.
Condolences may be left at www.overtonservice.com.
Dawn enjoyed children, animals and helping people.